Mike's Old Ford Pickup Truck Page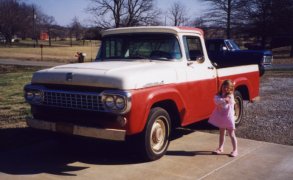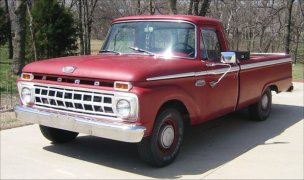 Click on any of the small pictures below to see a larger one.
Trapped in another website's frame? Click HERE to escape.
Need Parts??? Check out the places below (* denotes on-line store).
My Favorites are: Sacramento Vintage Ford Parts*, MotorHaven*,
Dennis Carpenter Reproductions*, Mac's Antique Auto Parts,
Auto Krafters*, LMC Truck, Obsolete Ford Parts*,
and you can call Carolina Classics at 1-800-598-4211
Other places to try are:
Midland Automotive Products*, John's F-Fun Hundreds*, Bob Drake's*,
C. W. Moss, Bob's F-100 Parts, Vintage Parts of Arizona,
Concours Parts*, C & G Early Ford Parts*, Surplus Supply Company*,
or Mc Donald's Obsolete Parts
Sometimes you'll find the parts you're looking for on ebay or Hemmings Motor News.
If you know of another old Fort truck parts place to be considered for the list, please email me at mike@swatek.com .
Need information about other Ford Truck model years???
Check out Ford Truck Enthusiasts (all years), Dane's Garage (1961-66)
or www.oldtrucks.com (1925-59)
Need to know how to do something to your old Ford truck?
get an official Ford shop manual from Bob Johnson's Auto Literature*.
---
Please rate this site at The Ford Truck Hot 100 - Top Sites Ranked by Users
---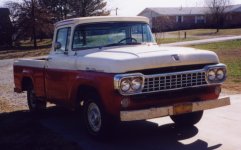 This is Mike's project truck. It's a 1958 Ford F-100 Styleside Custom Cab bought February 1998 with only 52,400 original miles on it. There's a 223 straight 6 under the hood with a 1 barrel carb, and not much else (no AC, power or anything new, and acres of room to work). Inside is a standard 4 speed on the floor. This truck is in 99.9% original condition. The only things added are a vacuum gauge in the instrument panel, underdash AM radio, tire mounts and a small tool box in the bed. This is going to be a relatively easy restoration to original showroom condition.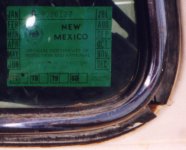 Here is this truck's story. It was first bought by Paul Davis of Milnesand, N.M. from Kinsey Motor Company in Portales, N.M. on 26 May 1958. The original key is still on Paul's keychain from Bruce Blackaby Ford in Portales. Paul was a grocer who lived on a farm, was a marksman and loved hunting in Colorado. He had several trucks that he used for specific purposes, and this was his hunting truck. Paul put all of the miles on this truck before becoming ill in 1977, which is the year of the inspection sticker on the windshield. The truck was parked in his barn until Paul passed away in 1985, and remained there until October 1997.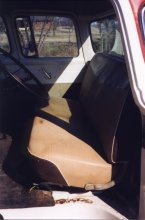 Paul and his wife had no children, so no one bothered his stuff in the barn for all those years. Finally, in 1997 his nephew, Preston Radcliff of Poverty Motors in Alamogordo, N.M., bought the truck from Paul's 94 year old widow. Being indoors in a relatively dry climate helped preserve the truck in its original condition. The seat had an after-market leather cover which protected the original upholstery. The battery had frozen and burst sometime over the years, but there was no significant damage from leaking fluid. After replacing the battery and a deteriorated rubber fuel line, the truck actually started after all those years!!!

In January 1998, Preston sold the truck to Donald Ambabo of Corrales, N.M. A few weeks later my brother, Jim Swatek, also of Corrales, happened across the truck. He knew from my web site that I wanted a Ford pickup from my birth year, 1958. He called me immediately about it (thanks bro'). I was leaving the next day on a trip to China and couldn't go to see the truck myself. We discussed what to look for on the truck and what I would be willing to pay for it. He checked it out and negotiated the sale on 21 February 1998.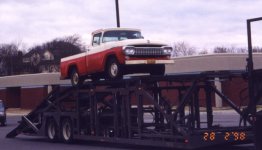 Rob Melton at Melton Sales in Claremore helped find a vehicle transport company and the truck was delivered on 28 February 1998. The truck driver said there were several people who asked him about the truck on the way here. I drove it a couple of miles, from the school where it was unloaded, to our house, and it was great!!! It started easy, ran smooth and everything felt really tight.
Here's a description of the truck as it arrived.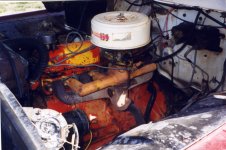 Under the hood is a 223 cubic inch 139 horsepower straight 6 cylinder engine with the original paint. The carburetor is a factory one barrel with a clear float cover and the air filter cover with original paint and decals on top. The generator and vacuum windshield wiper motors have not been upgraded. There's also a vacuum assisted fuel pump and hydraulic clutch. Overall, aesthetically rough but containing original parts and mechanically sound.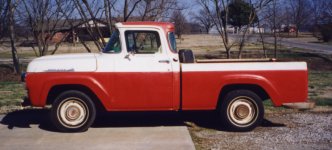 The paint appears to be all original (even on the front bumper, wheels and gas cap) with no indication of body work. The body is straight, except for a few minor dings and several minor dents from the inside of the tailgate. Three of the four hub caps are pretty rough and dented. A hole has been put in the top of the right fender for a radio antennae.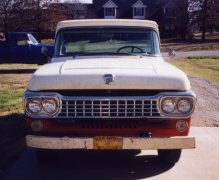 The original chrome is intact and in good condition, except for a missing "F-100" on the right side of the hood. The original side mirrors are looking good. The front bumper is slightly bent back at the sides. There are a couple of gravel pits in the windshield.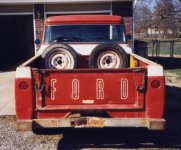 The bed's single wall sides are incredibly straight. However, the tailgate has several minor dents from the inside, producing a general outward bowing of the surface. The bed floor has a large depression at the rear, like something heavy was dropped in it. Two tire mounts and a small tool box have been added at the front of the bed. At the four corners on the top of the side walls, eye bolts have been installed for tie downs. The rear bumper has had a couple of extra tow ball or chain holes added, using a flame cutter. One of the tailgate chain latches is damaged.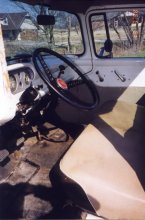 Inside the cab are the original door panels, driver door arm rest, visors, rear view mirror, head liner, seat covers and owner's manual, all in good condition!!! The steering wheel, shifter know and foot pedals show no significant wear. The foam under the seat covers is deteriorated, along with nearly every other exposed rubber component on the truck (windshield and door seals, hoses, belts, tires, wire insulation and tailgate chain covers). A tool container has been added inside the passenger door step. A tachometer has been added with two screw holes just above the steering column. An AM radio has been bolted on under the dash. In the instrument panel, a vacuum gauge has been added. An after market floor mat has been added over the original, very deteriorated floor mats. Holes have been put above and below the rear window for a gun rack. Two screw holes are in the dash over the glove box, and another over the instrument panel.
If you like this this 1958 F-100 Styleside Custom Cab, click on the ranking you think it's Ford Truck Enthusiasts Gallery deserves, with a 10 being best: 10, 9, 8, 7, 6, 5, 4, 3, 2 or 1. Thanks.
Below are some more pictures from other angles: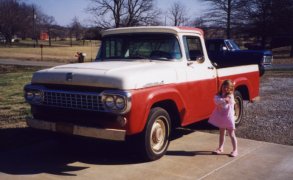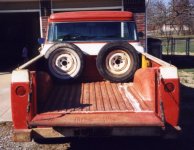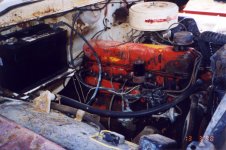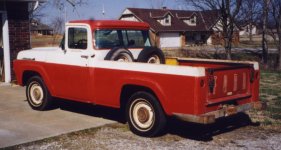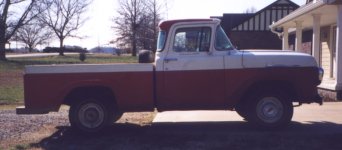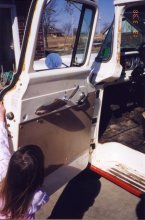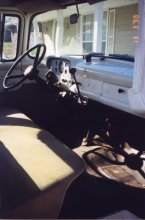 Restoration progress will be posted... when it finally begins.
---
Please rate this site at The Ford Truck Hot 100 - Top Sites Ranked by Users
---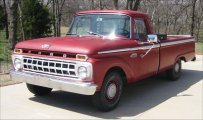 This is Mike's everyday driving truck. It's a 1965 Ford F-100 Styleside Custom Cab bought May 2001 with 252,115 miles on it (assuming the odometer had been rolled over only once in 1988 when it was documented to have 66,098 miles). There's a 352 V-8 under the hood converted to a 4 barrel Holley carburetor, and not much else (no AC, power or smog pump, and lots of room to work). Inside is a standard 3 speed on the column. Nothing fancy, simply low cost, easy to maintain, fun to drive and handy for hauling. I drive it everywhere.

This one was bought from a guy at work for $1600, after seeing it advertised on the company bulletin board. I liked it because the body was almost perfect, it ran decent, and the front end had hardly any freeplay in the steering. The front seat had also been recently upholstered in red and white vinyl.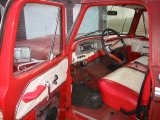 The first thing done to it was removing an after-market AC unit that hadn't worked in years and was taking up space under the hood and dash. Next priority was swapping out all of the better interchangeable parts from a 67 F-100 that was going to be salvaged, including:
Column Shifter Handle and Linkages, Tool box, Valve Covers, Heater Core with Diverter Valve and Control Cables/Knobs, Battery with Bracket, Air Breather, Pedal Covers, Tow Ball, Dip Stick, Wheels with Tires, Brake Adjuster Slot Plugs, Fuel Pump and Radiator Overflow.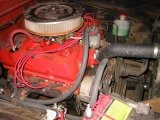 Since then I've been piddling with it in my spare time, including: carrier bearing; lubrication; filters; tune ups; plug wires; coil; thermostat; hoses and clamps; belts; engine ventilation; carburetor kit plus heavier secondary spring, smaller jets, longer/larger accelerator pump cam and 2 stage power valve; rebuilt heads with new valve guides, upgraded intake oil seals and all new bolts in the top end; right rocker arm shaft; new lifters; vacuum advance lines; mufflers; sterio; rebuilt steering column including shifter, turn signal, horn and a better steering wheel; gas cap, neck grommet and fill hose; door window regulators and handles; door window anti-rattle strips; vent wing seals; door upholstery backing; headliner; dome light; windshield and seal; motor and transmission mounts; defroster ducts; door latches and handles; accelerator pedal; shocks; oil pressure sender; hood bumpers; clutch linkage; exhaust manifold milled with new studs and seals; water pump gaskets; all u-joints; brake line from master cylinder to valve; front brake bleed valves; repacked front wheel bearings; floor covering and mats; floor vent door seals; tachometer; radius arm bushings; door arm rests; emergency brake; distributor; clutch; pressure plate; throwout bearing; pilot bushing; flywheel gear; original style side view mirrors; kingpins; spindle bushings; tie rod ends; drag link; alignment; and the list keeps growing...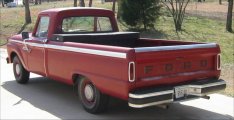 Didn't originally plan to do a full restoration on this old truck, just enough for a decent everyday driving truck. However, as things progressed I've changed my mind and want to make it almost like new. Don't know if it'll be show quality, but it's fun and good practice before starting on the '58, which I do plan to show. Maybe I'll use the '65 to pull the '58 to shows on a trailer. That'll look good going down the road.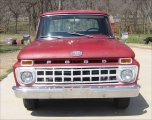 Items still to be done are cab to frame mounts; cab floor pan; paint and body; undercoating; engine paint and detailing; door seals; left door spring; vent wing window frames and handles; inside door handles; exterior chrome; fender side emblem inserts; instrument cluster bezel; right front shock bracket; dome light lens; wiper arms and blades; steering wheel; horn button/ring; original antenna; original hub caps; hub grease/dust caps; brake hoses; etc... Then I'll be finished practicing for the next project, the 1958 F-100 above. Oh boy!!
If you like this this 1965 F-100 Styleside Custom Cab, click on the ranking you think it's Ford Truck Enthusiasts Gallery deserves, with a 10 being best: 10, 9, 8, 7, 6, 5, 4, 3, 2 or 1. Thanks.
Below are some more pictures from other angles: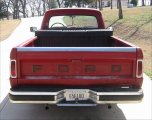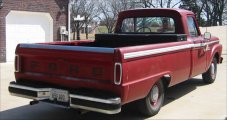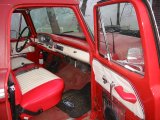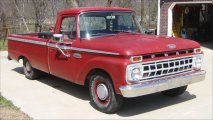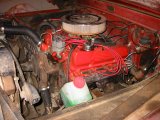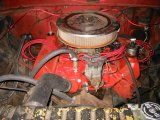 ---
Please rate this site at The Ford Truck Hot 100 - Top Sites Ranked by Users
Then, check out the links to FTE and Web Ring below to see other Ford Classic Trucks.
---
Mike & Leslie Swatek's Home Page
This Web Site's Server is located at MyHosting.com
by Mike Swatek
Copyright © 2002 * Mike Swatek* All Rights Reserved